Why travel to a restaurant for delicious pancakes? I've made these pancakes religiously for over 20 years,
however, the melted butter and hot maple syrup is EVERYTHING!!! You must try this recipe;
it's quick, easy and delicious. Save time and money by making them at home.
Take the taste up a notch; instead of spreading butter on your pancakes, melt the butter and pour on the pancakes,
thank me later.
Extra pancakes? Simply wrap pancakes and store in the freezer, pop them in the
microwave when you're ready for an extra quick breakfast.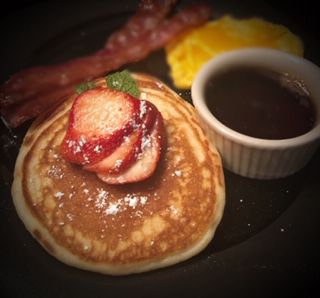 Nothing beats pancakes from scratch
Buttermilk Panckes & Homemade Syrup
Ingredients & Instructions
1 egg
1 cup all-purpose flour
1 tablespoon baking powder
1/2 teaspoon baking soda
1/2 teaspoon salt
1 tablespoon sugar
1 cup buttermilk
2 tablespoons vegetable oil
In a medium bowl, beat egg. Combine flour, baking powder, soda, salt and sugar;
add to egg. Add buttermilk and oil, beating until mixture is smooth (about 1-2 min)
For each pancake, poor about 1/4 cup batter onto hot, lightly greased griddle.
Turn pancakes when tops are coered with bubbles and edges look cooked.
Serve with Hot Maple Syrup.
Makes 8 (4") Pancakes
Hot Maple Syrup
1 cup water
2 cups granlated sugar
1/2 teaspoon pure maple flavoring
Bring water to a boil in a small sauce pan; add sugar
and maple flavoring. Stirring to dissolve. Cook 2 minutes,
stirring constantly. remove from heat and set aside.
Makes 2 cups
Extra syrup may be stored in a container and refrigerated.